By Ebriku John Friday
In a triumphant entry into the Ancient city of Ishibori, Ogoja Local Government Area on symbolic Palm Sunday, Distinguished Senator John Owan Enoh (JOE) formerly declare his aspiration for Governorship of Cross River State come 2023.
With the declaration by Senator Owan Enoh in Ogoja today, he is the first to have taken the bold step from the ruling All Progressives Congress (APC) in Cross River State, even though others are within the realm of speculation and persuasion.
He started the day with a Thanksgiving mass at the St Benedict Catholic Cathedral, Igoli Ogoja to present his aspiration to God and seek priestly blessing. And thereafter proceeded to the Ishibori Town Hall, Ogoja,. Where he formally declared his aspiration for Governorship of Cross River State amidst an unprecedented crowds of supporters and party faithfuls.
While making his speech of declaration, Senator Owan Enoh who represented the Central Senatorial District in the red chamber between 2015-2019, and is the candidate of the APC in 2019, presented his manifesto titled: Towards a Great Society."
Some of the dignitaries present include the State chairman of the APC CRS, Alphonsus Ogar Eba Esq represented by State Welfare officer Mr Okara , former VC of Unical Prof Zana Akpagu, Rt Hon Tom Agi, Elder PJ Ekunke, Hon John Ulafor serving commissioner for Grants and Economic Empowerment, chapter Chairmen, councilors and several others.
Read more of his declaration speech below…
THE GOVERNORSHIP DECLARATION SPEECH BY JOHN OWAN ENOH ON SUNDAY, APRIL 10TH 2022 AT OGOJA CROSS RIVER STATE
"LET US ALIGN THE DEVELOPMENT GOALS OF THE THREE SUCCESSIVE CIVILIAN ADMINISTRATIONS FOR A GREATER CROSS RIVER STATE-" Senator John Owan Enoh
My distinguished party men and women, I thank all of you most sincerely for travelling from different towns and communities across the state to become part of this epoch- making event at such a critical moment in our history. I owe you a huge debt of gratitude for finding time to be part of this occasion. Your presence here today is a practical demonstration of the deep love that you have for the wellbeing, progress and development of our state. I deeply appreciate your sense of sacrifice and commitment.
A few years ago, I shared with you my bold vision for a peaceful, functional and prosperous Cross River State. I invited all of you to become part of a movement that would have ensured that our individual and collective dreams become reality. I envisioned a state with a re- energized functional workforce; a leadership that will harness our abundant and untapped natural resources, revitalize our public utilities to deliver optimum service, create vast opportunities for jobs and wealth and bring about renewed confidence and faith in government in order to unleash the great possibility we are capable of as a people.
My message resonated across the state; from Calabar, the famous earthly paradise of pristine beauty, to Obudu/Obanliku with its breathtaking hills and Ikom/Etung, the cocoa belt as well as the other locations that I regard as the agricultural nerve centers of our state. At the end of a bruising and competitive campaign during which both parties gave a good account of themselves, we didn't quite arrive at the destination we had envisaged. However, the light of hope and great possibility have been rekindled and today burns much more in the hearts of millions of our people.
My dear compatriots, loyal and committed party men and women, I have good news for you: I stand here with a deep sense of responsibility and humility, considering that we are at the twilight of the second term of Governor Ben Ayade's administration, and indeed, a 24 year cycle of uninterrupted democratic governance running its full course, to announce that the next regime must navigate a path that seeks to draw on the strength of the unfinished business of the previous for a great Cross River State. Successive administrations in the state introduced several policies which they believed would deliver peace and prosperity to the vast majority of the citizenry. Their policies and interventions may not have yielded maximum result but this does not diminish the fact that they are patriots who truly love our state. Drawing on the strength of Gov Donald Duke's Tourism to Gov Liyel Imoke's rural transformation agenda and linking both with Gov Ben Ayade's audacious industrialization drive, the great Cross River of our expectation is possible.
Cross River State of today is saddled with many challenges and it would be a profound mistake to hand over the leadership of the state to someone who is not prepared in 2023. The challenges our state faces today require an experienced, tested, and trusted leader who knows and understands Cross River State and the people. Our State needs the services of a leader with the capacity and a clear roadmap for peace, progress, and prosperity of the state. The shrinking economic opportunities in Nigeria and all over the world represent a clarion call for eternal vigilance. It demands seriousness on the part of party members and the electorate in making the choice of who will lead them. Leadership in times of global and national crisis is not a tea party. It must not be left in the hands of those seeking power for its sake and are not sufficiently prepared to tackle the enormous challenges of these extraordinary times.

Our party should not take for granted the choice of who flies its flag in the 2023 Governorship election for the sake of our people and the ability to retain power. Although the entry of our Governor, Sen. (Prof.) Ben Ayade has strengthened our party, one does not need a clairvoyant to know that the next governorship election in Cross River State will be highly competitive. As a party, we must therefore be both strategic and practical in making that choice. That is because the choice of our Governorship flagbearer will not only determine whether we retain the governorship seat but more importantly, it will determine the fate of our state.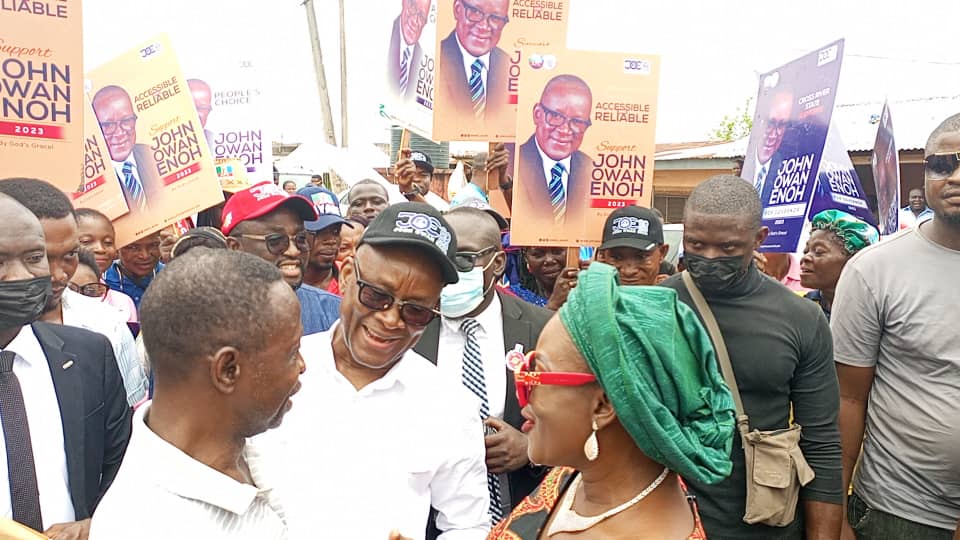 I am well-prepared to lead our state at this critical time in history. It is therefore with the utmost desire to offer service to our people, that I stand before you in this ancient town of Ogoja on this day, Sunday April 10, 2022, to formally declare my candidacy for the governorship of Cross River State on the platform of All Progressive Congress (APC). I arrived at this decision after a long period of reflection and statewide consultations.
I have had the privilege of serving our people at both state and federal levels and my record in the public service is very well known and available in the public domain. All through my service years, I have come to see leadership as a privilege and not a right and you the people as repositories of power. That understanding has shaped my engagement with you. I have not and will never take your support for granted. The staggering poverty rate of 36.29% and unemployment rate of 71.46% in the state amply demonstrates the fact that our people are confronted by shrinking opportunities and in need of jobs.
Job creation shall therefore be one of the cardinal priorities of my administration. The jobs are needed to support households, put food on the table, and have money in the pocket. Within the first one hundred days of my administration, I will introduce several quick-win programmes with the aim of creating immediate and sustainable jobs in different sectors across the state. The government will incentivize support to community- based trade and agriculture. Rural women and farmers will be advanced soft loans through the state- owned micro finance bank. I will take advantage of the industrialization effort of the current administration in line with its objectives. These industries will be evaluated to ascertain the support it requires to work efficiently and effectively. My administration recognizes that it cannot create all the jobs alone and will seek to attract private sector investments particularly into the areas of Agriculture, solid minerals, and tourism. Those sectors represent the state's competitive advantage.
We shall encourage existing companies in the state to create more jobs through tax incentives which will enable them to expand their businesses in the state. I will create a functional Job Directorate to connect people in the state with opportunities at the federal level. Under my leadership, the state government will introduce artisan programme, hospitality training scheme, technical training scheme and farm support scheme to improve the earning potential of people in the state. For the artisan training scheme, we shall target to train 5,000 youths in the state annually. The aim is to leverage industrialization drives in the state, neighbouring states, and across the country to give our people a competitive edge in the labour market.
The extraordinary times that we live in require a visionary, focused, committed, and compassionate leadership which I seek to offer. If you elect me as your candidate and by the grace of God, I become governor of our state, I intend to run an open, transparent, inclusive and accountable administration. Our tate is blessed with boundless opportunities and enormous potentials to become a vibrant and self-sustaining local economy in Nigeria. We are endowed with tremendous human and natural resources that we could leverage to metamorphose into an enviable height of socioeconomic transformation.
I will bring our educational needs to the forefront of public concern through a deliberate policy roadmap. Thereby evolving a new context in which there will be broader attention on improving the infrastructure of our schools, equipping school libraries, and engaging in capacity building of our teachers through a train-the-trainers program, particularly at the primary and secondary levels. We shall engage all stakeholders in our educational system and build a renewed culture of commitment and dedication for a dramatic turnaround within two years of the administration. I will place great emphasis on technical education and knowledge-based learning. Our state-owned university and other tertiary institutions will be given adequate attention to ensure the development of our human resource needs and prepare our young people for the challenges of the 21st century and the 4th Industrial Revolution.
I have resolved to build, consolidate and enhance our development initiatives on the back of our factor endowment in agriculture, human capacity through skill acquisition, and tourism with a good focus on eco-tourism. To this end, we shall galvanize our socioeconomic development measures into a single model of a bottom-up approach, incorporating each of the focal areas of our concern as a people. The integration of such measures and perspective in our economic drive would ensure a genuine cohesion in government action in the realm of holistic and inclusive development of our state. To this end, our rural areas, vulnerable people particularly, those living with disabilities, and women are well captured in my development agenda.
I want to run a government that future generations will be proud of what we have. On that note, my administration shall develop an agenda with a clear direction on the sustainable use and management of our forest resources. My administration shall make the inclusion of distinctive measures in policies, strategies, and sectoral action plans in our socioeconomic affairs that would nonetheless engender appreciable progress in the quality of government intervention in critical sectors of our local economy. Under my guidance and leadership, the state government shall foster a full-blown sustainable wealth creation economy within a record time of 3 years while leveraging our abundant factor endowment of both human and natural resources.
We shall adopt a full-court press strategy with an industrial policy that would drive the value chains of some of our factor endowments. That will include agriculture and a broad spectrum of other areas where the state has a comparative advantage, such as solid minerals to national and international reckoning. The state shall use information technology (IT) as a critical driver to re-energize and rapidly transform governance to interface with the people and meet their needs effectively.

My administration shall ensure an expansion of the state civil service skill and career development opportunities, which is actually the engine room of government, by improving the management and use of IT within and among ministries, departments, and agencies (MDAs). In that regard, we shall develop systems, standards, and procedures with shared ideas and experiences to promote practices and provide innovativeness in service delivery to the people. The government under my watch shall encourage, nominate and sponsor some of our civil servants and public office holders to attend advanced management and technical programs within the state, around the country, or overseas. The essence is to build capacity to deliver on the mandate of their offices and fit for purpose as the 4th Industrial revolution arrives.
My style of governance shall be participatory and needs-driven. In which case, I shall institute regular interface and interactions with the people through town hall meetings and state-wide electronic media chats to keep the people abreast of government programs in order to get their buy-in, suggestions, opinions, feedback, and general assessment of our deliverables. The primary consideration for appointments and promotions in critical government offices will be competence, experience, and track record. Nepotism and clannishness shall be eliminated from our governance structure.
The government I seek to lead shall establish precise internal control and accountability measures that would foster efficiency in the management of state resources. There shall be a monitoring and evaluation (ME) framework that would serve as a barometer to gauge the applicable performance in the implementation of government policies and programs against set objectives. That is necessary with regards to sustainability, modification, adjustment, or termination of any government programme. My administration will introduce new initiatives to increase our internally generated revenue and properly extend our tax dragnet while maintaining very friendly tax regimes.
I shall honor the valor of our aged citizens who gave their years of strength as a blessing to our state. On assumption of office, I shall reform our pension process, and our pensioners will be given priority attention by paying their gratuities and other outstanding benefits. Likewise, our civil servants and the entire workforce under the State Government should be assured of better times ahead with continuity in the regular payment of their salaries. Their promotions will come with immediate implementation of salary increments proportional to their status. I promise to run a labor-friendly government in our state.
I believe that we won't get far without developing an entrepreneurial mindset in our young men and women. My government shall encourage and inspire the establishment and growth of small businesses by organizing training programs for our young people to take on the challenge of entrepreneurship. Credit guarantee schemes will be made available for their take-off. They shall be closely monitored and given the desired motivation until they are well established to stand independently. Furthermore, I shall promote the establishment of cooperative societies in both our rural and urban centers to encourage our people to do business together to drive our local economy.
I shall also encourage Cross Riverians to participate actively in controlling significant aspects of our local economy. From my findings, I feel despondent that no Cross Riverian is a major distributor or dealer with Unicem and some prominent business concerns domiciled in the State. Therefore, I shall reverse this ugly trend by getting some of our people involved in the significant distributorship and dealership of these companies by guaranteeing credit facilities for them, availing them of the necessary training, and putting in place an adequate internal control mechanism for the repayment of the loans.
I shall give youth and sport adequate priority. Our youths must not be allowed to get so entrenched with the hand-out mindset. Sport development is a veritable tool to engage our young people and help them channel their energies productively and make good progress. Therefore, my government shall be deeply involved in grassroots, primary, and secondary schools' sport development programmes to source talents and get them developed to participate in major sports tournaments nationally and internationally. In addition, youths with other innate talents like music, dancing, acting, etc., shall be sourced, encouraged, and established.
My administration shall give our healthcare delivery system topmost priority by increasing Healthcare Centers with up-to-date equipment and trained personnel and Health Insurance Scheme. I shall work closely with our security agencies to ensure the security of lives and properties and the peaceful co-existence of people within the state. Furthermore, the government shall introduce pro-active conflict prevention and conflict resolution mechanisms to stem the incessant communal conflicts within the state and between communities in the state and neighboring states.
My government shall implement a financial re-engineering process to re-negotiate some of our loans with banks and plug leakages. In addition, external transformation grants will be sourced and invested in building our human capacity and developing our ailing infrastructure. Under my leadership, Calabar shall regain its pride of place as the capital city of the state and the seat of government with a well-thought-out master plan. Mini flyovers and pedestrian bridges will be constructed at some busy locations to ease traffic during rush hours and peak periods of the day.
We shall set up a practical environmental sanitation framework to restore the cleanliness of the city. Ikom shall be remodeled as a major border city to Central and East Africa to take on the status of the commercial nerve center of the state. One of the great places that have marked us out over the years as an outstanding state is the Obudu Mountain Ranch Resort. The government under my leadership shall source and engage international hospitality consultants and companies to run the Ranch Resort on a concessional basis. We shall restore the status of Ogoja as a former provincial headquarters. We will give no less attention to other emerging towns as hubs for the rapid development of our state. The implementation of the bold vision, programmes and policies that I have painstakingly laid out requires a lot of resources which is unfortunately lacking in the state. My plan to boost the revenue profile of our state is multifaceted and is anchored on cutting down the cost of governance, sourcing grants and partnerships, and the diversification of the revenue streams of the state.
My dear friends, in moments of adversity, what is required is a capable, committed, purposeful and selfless leadership. Our dear state needs the services of a servant leader, a steady hand, an astute manager of resources and a compassionate leader to deliver an all-inclusive growth and prosperity that will leave a long lasting impact on the lives of citizens. The present and the future that we yearn for, both for us and unborn generations can only be made possible by a leader who will put the people first at all times. I am such a leader. I have never been more convinced than now that my economic blueprint and development masterplan will set Cross River State on the irrevocable path to peace and prosperity. I urge you to therefore seize this moment and opportunity by voting me in as the candidate of our great party, the All Progressive Congress (APC) for the governorship of our state.
My vision for our state is as high as any noble dream can be; my vision will yield a state that will live up to its full potentials, deliver a reinvigorated system that will encourage and support entrepreneurship, wealth creation, jobs and boundless opportunities. That is why I enjoin you today to join me to deliver a better Cross River State. I am counting on your support to put me on top of our party's governorship ticket which by the grace of God will propel me to win the election in 2023.
God bless the All Progressive Congress!
God bless Cross River State!
God bless the Federal Republic of Nigeria!
God Bless you all!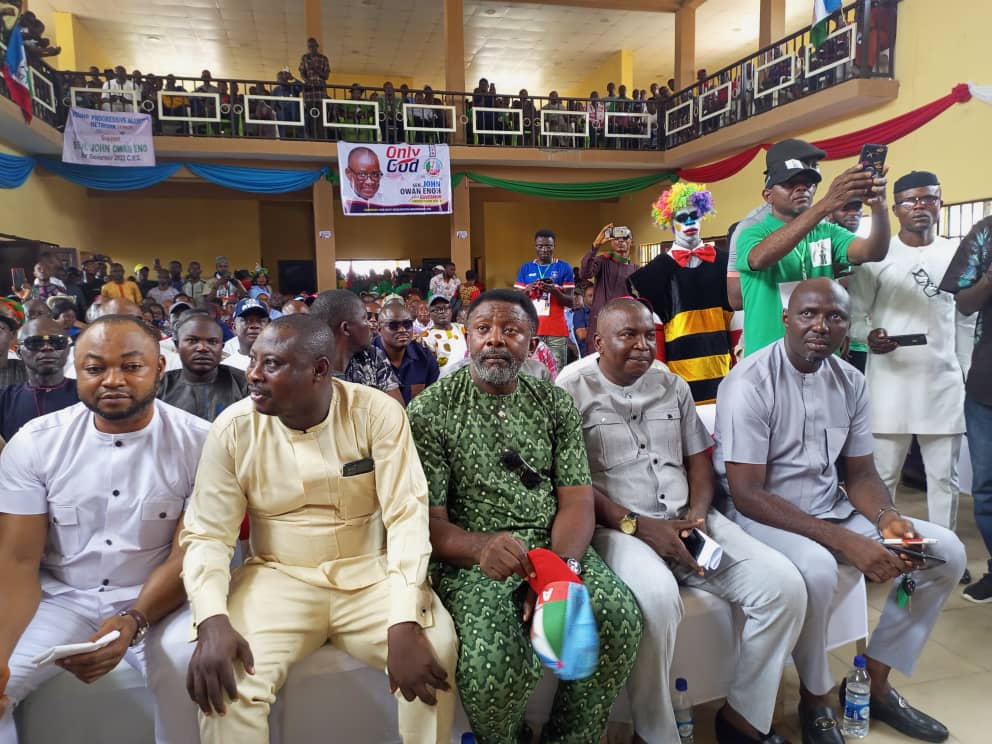 Please follow and like us: