Public office has never been effectively run as it is today under Alphonsus Ogar Eba's watch as the Chairman of the All Progressives Congress (APC), Cross River State. Besides his ability to recreate the office, Eba through his magnanimity has been able to unite members of the APC in the state through his political philosophy of "Plug", which stands for Peace, Love, Unity and Growth.

Alphonsus Ogar Eba Esq is a bundle of humility. Indeed, it is one of those qualities that marked him out from the rest. He is also down-to-earth and magnanimous in his simplicity that he treats the people even more importantly than himself. As a Lawyer -turned politician, it is possible that Eba is very much in tune with his Legal ethics that place much premium on principles and ethics than sheer distinctions.

Eba is a man of peace. He maintains his calm nature despite persistent pressures. As a Christian, he believes that vengeance is of the Lord. And he goes about promoting peace as an act of state policy.

Eba accommodates all shades of opinion despite provocations by those who see politics as a do-or-die affair, even as some of the hard-line politicians mount strident attacks on him, he has never openly admitted that anybody is against him.

This deliberate policy of promoting peace and advancement of state integration and cohesion could be seen in the spread of his political relationship across ethnic and party leanings.It also goes without ado that Eba remains one of the few politicians in Nigeria without any atom of hatred, even with the amount of witch-hunting by ill politicians ; this is brought about by Eba's high level of tolerance as man of peace.

Another trait noticeable in the people's Chairman is diligence.Of course, this is a trait common to all Lawyers, But in Eba, this attribute has found a permanent habitat. He is so hard-working and dedicated to his duty that you may think he does not have time for other things.

This leads to the concept of his abiding faith "and confidence in himself. One's self-concept precedes and predicts one's level of effectiveness in every area of life. Here,Eba is a master in this process and functioning of the human mind. He believes so much in his capacity to do everything and to achieve beyond human imagination. One other attribute of Alphonsus Ogar Eba Esq is organizational
ability.

This includes the ability to organize both human and material resources. This ability is borne out of his enormous ability to think and get focused at any point in time.

Public office has never been run in a well-organized and result-oriented manner as presently being done under the watch of Eba as the State Chairman of the Rulling All Progressives Congress. His ability to manage people and exuding tolerance has brought him this far.

It is against this backdrop that people now see him as a unifying factor. This attribute is both a quality and a leadership style. For Eba, the state Chairman of our great party, (APC) the style is undoubtedly the man,his leadership style is dynamic and special.

People who mistake his implacable kindness and simplicity for weakness miss the point.Eba could be quiet but sharp. He combines the two motivational theories of stick and carrot simultaneously.

Some people are known to abandon their duty in search of empty pleasure, the Eba applies the stick. But,the Chairman being a man of compassion applies the carrot more than he applies the stick.

He is a modern democrat, always planning, calculating and rewarding as the late legendary sage, Chief Obafemi Awolowo.

Another leadership style of Eba applies is sagacity. As the saying goes "example is better than precept.Eba  sees himself as the chief steward of any task given to him  and explores this maxim with maximum effect.

Whenever he is in the state, he is always the first to report to work and the last to leave the office, except when he is on a routine appointment.With this, people working with him have imbibed the punctuality principle.

In spite of his simple mien,Eba is a very modest but strict politician who does not suffer fools gladly. He believes in the power and ability of mankind to use principles and ideas to change his situation. Many people including his peers and erstwhile superiors now learn from him.

Eba has variously been described as an enigma; the man they couldn't cage or put out of circulation having overcome all political odds.

A detribalized Cross Riverian, he polled support from across the ethic divides and this proved a useful weapon in in every of his move, a strong pillar of grass root politics, Armed with his intimidating credentials, the Chairman's distractors applied every tactic and strategy to undermine his chances but he remain focus.

His pedigree, vision and realist agenda were his strong points. EBA'S admirers now call him "an icon of the new Cross River politics " who is keeping the Cross River State APC family  in the league of the first eleven amongst Nigeria's 36 states and Abuja, the FCT.

His story is that of a man who rose from humble background to assume the position of a king through dint of hard-work, courage and integrity, and yet has not dumped the class, from which he sprang which constitutes the mass of the population.

Let's Keep Supporting Alphonsus Ogar Eba Esq As Cross River State APC Chairman.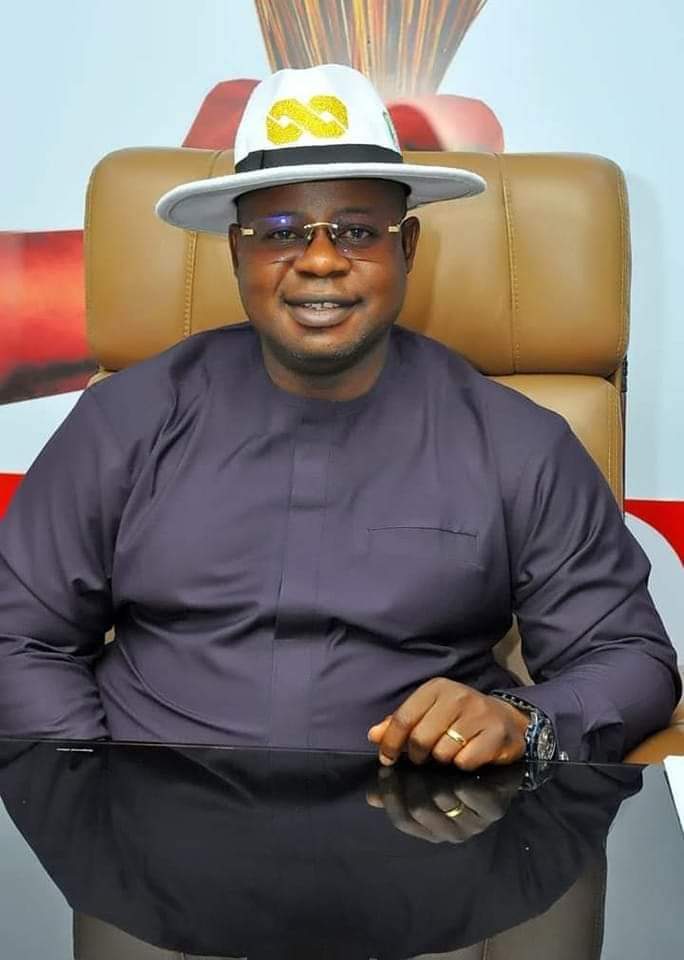 #PlugMedia
Please follow and like us: